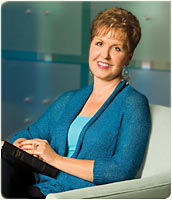 (JOYCE MEYER) I DON'T LIKE TO SEE ANYBODY HURTING BUT CHILDREN, IT JUST REALLY GETS TO ME WHEN THEY'RE HURTING. AND THERE ARE SOME ATROCITIES GOING ON IN OUR WORLD TODAY THAT ARE ALMOST BEYOND ANYTHING WE CAN EVEN COMPREHEND: LITTLE CHILDREN BEING ABDUCTED INTO THE SEX TRAFFICKING INDUSTRY AND KIDS LIVING IN TRASH DUMPS TRYING TO PICK ENOUGH PAPER AND GLASS OUT OF A PILE OF TRASH TO BE ABLE TO EAT THAT DAY. I THINK WE HAVE TO DO MORE AT THIS POINT THAN JUST LOOK AT IT AND SAY THAT'S A SHAME. THAT'S EXACTLY WHAT YOU DID WHEN YOU NOT ONLY BECAME A PARTNER WITH JOYCE MEYER MINISTRIES MANY YEARS AGO BUT WHEN YOU DECIDED TO ACTUALLY GO AND SEE FOR YOURSELF.  WHY DID YOU DECIDE TO GO TO SOUTH AFRICA?
(Leonard) KIND OF WHAT YOU JUST SAID, TO SEE FOR MYSELF. WE'D BEEN SUPPORTING YOUR MINISTRY FOR A LONG TIME AND I THINK WITH STEWARDSHIP COMES NOT JUST WRITING A CHECK BUT HOW ARE THOSE FUNDS BEING USED? THAT MEANT A LOT TO ME AND MY WIFE. SHE'S VERY INTERESTED IN THE MINISTRY, ALSO.
(JOYCE MEYER MINISTRIES) JUST TELL ME IN YOUR OWN WORDS HOW ARE YOU DIFFERENT SINCE GOING TO SOUTH AFRICA?
(Leonard) THAT LITTLE GIRL AGAIN PUT A FACE ON THOSE KIND OF NEEDS. THIS IS EMBARRASSING BUT I'VE FLIPPED THROUGH THE CHANNELS BEFORE AND SEEN THOSE KIND OF THINGS, SEEN THE HUNGRY CHILDREN, AND YOU THINK: WHAT DIFFERENCE CAN I MAKE? I'VE HEARD YOU SAY MANY TIMES WE CAN DO SOMETHING; YOU CAN'T FEED THEM ALL BUT YOU CAN DO SOMETHING.  ALSO, IF YOU CHANGE THE CHANNEL QUICK ENOUGH, YOU CAN ALMOST NOT THINK ABOUT IT, AND YOU CAN'T NOT EVER THINK ABOUT IT AFTER YOU'VE SEEN IT.
(JOYCE MEYER ONLINE) I AGREE. THE FIRST TIME I WENT TO INDIA, FOR EXAMPLE, I STILL GO TO THESE PLACES AND SOMETIMES ALL I CAN DO IS JUST SHAKE MY HEAD. PEOPLE ASK ME SOMETIMES: WHAT DO YOU THINK? AND IT'S LIKE I DON'T KNOW HOW TO THINK ABOUT IT. HOW CAN YOU THINK ABOUT THAT KIND OF STUFF? SO, HAS THIS CHANGED YOUR VIEW TOWARD PARTNERSHIP?
(Leonard) AGAIN, CHANGE IS NOT THE WORD I WOULD USE. I'D SAY IT CONFIRMED MY VIEW TOWARD PARTNERSHIP. IT'S WHAT I THOUGHT IT WAS GOING TO BE AND MUCH, MUCH MORE. FOR ME AND I THINK A LOT OF PEOPLE LIKE ME, JOYCE MEYER MINISTRIES IS 99 PERCENT WHAT WE SEE ON THE CONFERENCES. I'VE BEEN TO ONE OF YOUR CONFERENCES, I WATCH THOSE ON TV, I LISTEN TO YOUR TAPES, AND I KNOW THAT YOU'VE GOT ALL THESE MINISTRIES GOING ON BUT I DIDN'T KNOW HOW BIG A DEAL THEY WERE.
&copy Copyright 2011 admin, All rights Reserved. Written For:
Joyce Meyer