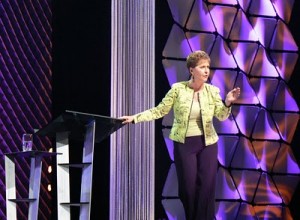 God wants you to dream. He wants you to plan. He doesn't want the demands and routines of life or things like fear to keep you from moving forward in life. So when those things come, we have to be ready to rise up against them. Even something as simple as waking up every morning and saying, "Something good is going to happen to me today," can put fear and other distractions in their place.
That simple act has power because there is power in your words. Proverbs 18:21 says our words have the power of life or death in them, so we need to focus our words on proclaiming the promises of God over our lives.
When you spiritually connect with God by proclaiming His promises, that's when your dreams start being fulfilled. You can be like Abraham and Sarah if you'll just believe and press toward God's best for you. They were old and having a child seemed impossible, but God gave Abraham a vision that he would be the father of many nations. Because Abraham believed God, that vision was fulfilled through Isaac and the many generations that followed. (Read Abraham's story in Genesis, chapters 17-21.)
If you have a dream that seems impossible, start saying, "I will have everything God says I can have. I will do everything God says I can do. I will be everything God says I can be." Because with God, all things are possible!
Maybe it's time for you to make a new commitment today to start going after your dreams. I encourage you to decide right now to stir up your faith, shake off any fear, remember who you are in Christ, and make a decision to trust God to do the impossible every day you get out of bed. Then you'll enjoy the journey, one day at a time, to the fulfillment of your dreams!
&copy Copyright 2013 admin, All rights Reserved. Written For:
Joyce Meyer