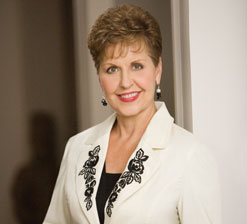 Now, it took time, and I had to be determined many times not to give up, but each time Dave confronted me and I made the choice to behave the way God wanted me to, I made progress. He'd say things like this, "Joyce, I'm not going to let you control me. You want me to agree with you and think the way you think about this, but I don't." Then I would throw a fit, feeling sorry for myself and trying to get him to feel sorry for me and give me what I wanted, but he didn't. He would say, "I love you but I am not going to feel sorry for you because it's not going to help you if I do." It sure didn't feel good at the time, but it was what I needed to get free from the bitterness, anger and resentment I had because of my past.
Confrontation is a boundary we set in our lives. It says "You can't come any further than this." When we set boundaries based upon godly wisdom and enforce them with a loving motivation, the initial reaction may not be fun to deal with, but outcome is worth it. The key is doing it in love, and that means being led by the Holy Spirit about what to say, how to say it and when to do it. Dave is a good example of this. He confronted me out of obedience to God and because he loved me.
If you're facing a difficult situation with a relationship and know you need to confront it, I encourage you to spend time in prayer first. Let God deal with your heart before you try to deal with someone else. Ask God for wisdom, and be sure you're following His direction in what you do when you talk to that person. James 1:5 promises if we need wisdom and ask God for it, He will give it to us. Then, when you know what to do and when to do it, trust God to help you follow through.
We all need boundaries in our lives, and we'll all have to confront people at times to stay within them. We also need to realize that other people will have some different needs and boundaries than we do, and we need to respect that and treat people right. When we do, we're really living for God and He can change our lives!
&copy Copyright 2013 admin, All rights Reserved. Written For:
Joyce Meyer