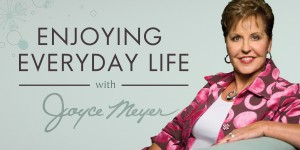 Have you ever spent too much time thinking about what somebody has done to you?
When that happens, it's hard to get around that person and treat them right, isn't it? Even if you can manage to keep your mouth shut, they're still going to see something in your body language or the expression on your face that just isn't right. That's why we need to learn how to forgive, and forgive quickly―and it all begins with the way we think.
The Bible says, "Letting your sinful nature control your mind leads to death. But letting the Spirit control your mind leads to life and peace" (Romans 8:6 NLT).
I'll say it this way: If you let your flesh control your mind on a regular basis, you're going to experience a fair amount of misery and pain. But if you set your mind on God's Word, you'll enjoy a lot of peace and happiness instead.
Here are two scriptures that often help me redirect my thoughts:
Mark 12:30-31 (NIV): "Love the Lord your God with all your heart and with all your soul and with all your mind and with all your strength," and "Love your neighbor as yourself."
John 13:34-35 (NIV): "A new command I give you: Love one another. As I have loved you, so you must love one another. By this everyone will know that you are my disciples, if you love one another."
Church, we are called to love and forgive, and in order to do that, we need to start thinking about what we're thinking about!
&copy Copyright 2013 admin, All rights Reserved. Written For:
Joyce Meyer