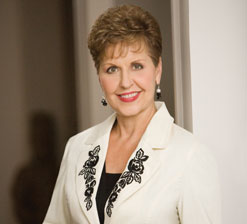 THE DINNER TABLE EVERY NIGHT WAS LIKE A WAR ZONE BECAUSE WE HAD OUR FOUR KIDS AND ME AND DAVE AND IT HAPPENED RIGHT ON TIME. (laughing) THE FOOD WAS THERE. THE PEOPLE WERE THERE. THERE WAS NO JOY BUT WE WERE THERE. (laughing) NOW LISTEN! AND EVERY STINKIN' NIGHT SOMEBODY SPILLED THEIR DRINK. EVERY NIGHT!
(Joyce) WHATEVER OUR THOUGHTS AND ATTITUDES ARE IS WHAT WE FEED ON ALL DAY LONG, SO WE NEED TO BE REALLY CAREFUL ABOUT OUR SELF-TALK.  THAT SELF-TALK IS THAT CONVERSATION THAT GOES ON INSIDE OF US ALL THE TIME. I BELIEVE THAT YOU CAN INCREASE YOUR JOY BY HAVING BETTER THOUGHTS AND BETTER ATTITUDES. TODAY WE HAVE A GREAT RESOURCE OFFER THAT I THINK IS REALLY GOING TO HELP YOU; IT'S TWO DVDs IN A SET CALLED "WISDOM AND THE BLESSED LIFE." GOD WANTS US TO BE BLESSED BUT WE HAVE TO OPERATE IN WISDOM. YOU MIGHT THINK "I WISH I HAD WISDOM." IF YOU'RE A BELIEVER IN JESUS CHRIST, YOU DO HAVE WISDOM BECAUSE FIRST CORINTHIANS SAYS "HE IS MADE UNTO US WISDOM." YOU HAVE WISDOM; PERHAPS WE JUST ALL NEED TO LISTEN A BIT BETTER. OUR OFFER TODAY ALSO INCLUDES A BOOK BY JOHN BEVERE CALLED "UNDER COVER."  YOU'D BE AMAZED AT ALL THE PROTECTION YOU HAVE IF YOU STAY UNDER THE COVERING THAT GOD HAS PUT OVER YOUR LIFE. AND THEN PLEASE STAY WITH ME EVEN AFTER OUR ANNOUNCER IS FINISHED BECAUSE IF YOU'RE SICK, I WANT TO PRAY FOR YOUR HEALING TODAY.  JESUS IS OUR HEALER AND HE TELLS US TO PRAY THE PRAYER OF FAITH, SO TODAY I'M GONNA PRAY AND AGREE WITH YOU FOR COMPLETE WHOLENESS IN YOUR BODY.
(man) I'VE WALKED THIS SIDEWALK FOR YEARS, SEEN A MILLION FACES,
A MILLION LIVES, AND EVERY SINGLE ONE OF THEM WANTS SOMETHING: WANT TO BE RICH, THEY WANT TO BE FAMOUS, WANT A BIGGER HOUSE OR A FASTER CAR. IT'S NOT UNTIL WE WISE UP AND REALIZE THAT TRUE HAPPINESS, TRUE FULFILLMENT ONLY COMES WHEN WE'RE LIVING UNDER THE BLESSINGS OF GOD.
&copy Copyright 2011 admin, All rights Reserved. Written For:
Joyce Meyer