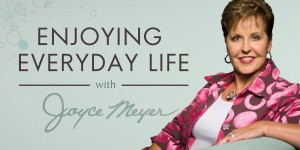 (Joyce) TODAY I'M GONNA TAKE YOU ON A JOURNEY FROM ALASKA PRISONS TO SOUTH AFRICA FEEDING PROGRAMS TO ANGELS' ATTIC.  I'LL EXPLAIN WHAT THAT MEANS NEXT ON "ENJOYING EVERYDAY LIFE." (music)
(Joyce) WELCOME TO THE PROGRAM TODAY. YOU KNOW, OUR PARTNERS ENABLE US TO REACH PEOPLE WITH THE GOSPEL ALL OVER THE WORLD AND BECAUSE OF THEM, LIVES ARE CHANGING EVERY DAY. I BELIEVE THAT THERE'S POWER IN PARTNERSHIP AND THOSE OF YOU WHO ARE PARTNERS WITH US, I WANT TO THANK YOU SO MUCH FOR YOUR FAITHFULNESS. PARTNERS, YOU'VE GIVEN US THE OPPORTUNITY TO BRING LIGHT INTO DARK PLACES, AND RECENTLY WE'VE BEEN ABLE TO BRING HOPE AND ENCOURAGEMENT TO THE INMATES IN AN ALASKAN PRISON.
(Ginger Stache)  THE BIBLE IS VERY CLEAR. IT TELLS US THAT WE NEED TO GO TO THE WIDOWS, TO THE ORPHANS, TO THOSE IN PRISON, AND TO SHARE HIS LOVE WITH THEM. WELL, OUR PRISON MINISTRY HAS BEEN VERY EXCITING AND WE HAVE HAD THE OPPORTUNITY TO SHARE CHRIST'S LOVE WITH PRISONERS AROUND THE WORLD. IN FACT, IN THE UNITED STATES WE HAVE GONE INTO PRISONS IN EVERY SINGLE STATE EXCEPT FOR ONE. WELL, WE'VE BEEN PRAYING AND THE DOOR HAS OPENED. AND WHEN GOD OPENS A DOOR, YOU GO THROUGH IT EVEN WHEN THAT DOOR IS GOING TO ALASKA AT THE COLDEST TIME OF THE YEAR.
(Roy Lormis) TO ENTER A PRISON, YOU GO THROUGH THE WALKING IN AND TO THE COMMAND CONTROL CENTER. YOU GET PROCESSED THROUGH, AND THEY START SECURING THE GATES CLANGING BEHIND YOU. FOR SOME PEOPLE IT'S PROBABLY A SCARY MOMENT. FOR ME, IT'S JUST A JOYOUS MOMENT BECAUSE I UNDERSTAND THAT WHY I'M THERE AND THE PURPOSE FOR WHICH WE'VE COME IS ABOUT TO BE FULFILLED. HOW MANY WOKE UP ONE DAY AND DECIDED THAT YOU WERE GOING TO DO WHATEVER IT TOOK TO BE IN PRISON THE NEXT DAY? HUH? NOBODY? YOU WILL NEVER KNOW WHO YOU ARE UNTIL YOU KNOW WHO GOD IS. WE REALLY DO SEE A TREMENDOUS AMOUNT OF THEM GIVING THEIR LIVES TO JESUS.
&copy Copyright 2011 admin, All rights Reserved. Written For:
Joyce Meyer