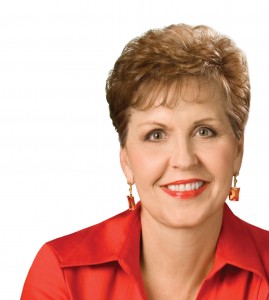 Pastor Mike: I still don't know what was the matter with me, but it doesn't make any difference.
Pastor Billy Joe: Joyce, I feel it right now. May I speak into someone this moment? In the name of Jesus, I speak healing into your life. I speak peace into your mind. I speak calm into your soul. I speak strength into you. In your family, in the name of Jesus, we decree love and harmony come. Now you begin to say the name. There's no other name by which we can be saved but the name of Jesus. Why not call on his name right now and just say, "Jesus, save me. I receive your forgiveness. I receive your spirit." now call on his name and say, "in the name of Jesus," and whatever is tormenting or bothering or oppressing you or your family, tell it to go right now. You have that authority now as a believer in Jesus Christ.
Joyce: Well, I tell you, I can feel the presence of God right now, and I mean that sincerely. I really believe for those of you watching us right now at home or work, wherever you are, I don't want you to take this lightly today because some powerful prayers have been prayed over you. But you need to release your faith also. It's not just about what kind of faith we have for you but you need to also have faith and believe that there's power in the name of Jesus. So, we're offering some teaching today that I believe would be very valuable to you. It's my new series titled "armed and dangerous." it's all about spiritual warfare and how you can defeat the enemy. And a book that I wrote actually several years ago, but it's called "the word, the name and the blood." I remember when god put it on my heart to write that book, he said, "people need to keep their faith fresh in the power that's in the word, the name and the blood." so, I think that this is a book that you could keep even along with your bible, and you can read a little bit of this every day in your time with god, even if it's just a page, and it will keep you fresh in these simple yet powerful principles that there's power in the name, power in the word, and power in the blood of Jesus. Then also today we'd like to give you a free gift when you order today's resource package.
&copy Copyright 2013 admin, All rights Reserved. Written For:
Joyce Meyer