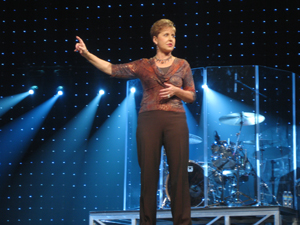 Pat Quirin: I never ever could dream that a year ago when we opened our little store that we would even have this amount of money, much less that we would be talking to the people at Joyce Meyer ministries or that we would actually have been invited to go to Cambodia with her group of people. It was such an unbelievably precious thing that god had blessed us with for all our hard work.
Narrator:  in its first year, angels' attic made a profit of $65,000; $30,000 of which they donated to Joyce Meyer ministries for the "hope Cambodia" outreach. Their funds were used to build one of fifteen Cambodian hope centers which feeds and educates children, and for the ongoing monthly support of the orphanages which are a part of many of these centers.
Leanne Clift: when I first walked up, I couldn't believe how big this community center was and it's just beautiful. All the people were smiling and having a good time. It was awesome. I just loved it.
Narrator: the ladies were amazed at the difference their donations made in the lives of so many Cambodian children, many of whom spend their days and nights digging through trash dumps looking for items they can recycle for just fifty cents a day. (pat) when I saw those children it really just tore my heart out. It was just pitiful. It just makes you want to go back and do something to help them.
Joyce Meyer Ministries – I don't think it's difficult at all. I think everybody has something to give, and no matter how tiny the amount, added together it can make a lot of difference. Even it's nothing except fifty cents a day that you give, it can make a big difference, a big big difference in those children's lives.
&copy Copyright 2012 admin, All rights Reserved. Written For:
Joyce Meyer