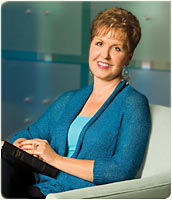 If the devil's not whispering in your ear himself, he will speak it through well-meaning people. You go to lunch with a friend: Hey man, I heard about your problem, so what are you gonna do? And you don't know what to do but you feel obligated to come up with an answer. Sometimes we feel like we're dumb if we just say: I don't know. I'm so glad that I found out that I don't have to know as long as I know the one who knows. As a matter of fact, let me tell you something: There is no such thing as trust unless you have some unanswered questions in your life. If you know everything, there's nothing to trust God about. Don't waste your time anymore trying to figure out stuff that only God knows and he's not telling yet.
So here John is in prison and as far as I can tell, he had lived a pretty exemplary life. He had sacrificed and been obedient. He had been hearing about Jesus and he sends a message: Are you the one or should we look for somebody else? And in verse 4 Jesus said: Go and report to John what you hear and see: (vs. 5) The blind receive their sight, the lame walk, lepers are cleansed by healing and the deaf hear, the dead are raised up, the poor have the good news preached to them, (vs. 6) and blessed and to be envied is he who takes no offense at me and finds no cause for stumbling and is not hindered from seeing the truth.
Now, I don't know, I don't even know why I thought that verse was in there. It almost seems like it's just taken off in a whole other direction because first, John is saying, "are you really the one who's going to come or should we look for somebody else?" And Jesus said, "no, just look at what I'm doing and you'll know that it's me." And then he comes up with this kind of strange thing. He says: And blessed are those who are not offended in me.
&copy Copyright 2012 admin, All rights Reserved. Written For:
Joyce Meyer