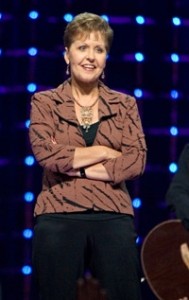 Joyce: if you're just joining us, I'm talking today about how you can have a personal relationship with god through Jesus Christ. It's very important. Who would not want to have a great relationship with god? He's all power and all wisdom, all knowing; he's the beginning and the end of everything, the author and the finisher. I want to be hooked up in right relationship with somebody like that because frankly, I need a lot of help in my life and I would imagine that you do, too. I just want to start by assuring you that god loves you.
Not just everybody. He loves you and you're very important to him. God has a good plan for your life.  Maybe your life hasn't been that great so far or maybe you've had some tragic thing happen and you're wondering does god love you at all, but i want to assure you that god loves you and he does have a good plan for your life. The devil is alive and well on planet earth and we live in a society where things happen and we can't always control all of those things.  God never promises us that our lives will be completely trouble-free but he does promise us that he will always be with us. He says, "I will never leave you nor forsake you, but I will be with you always, even unto the end of the world." that's a really cool promise to have somebody who is all-powerful, all-knowing, almighty, can do everything, the beginning and the end, the author and the finisher with us all the time until the end of our life.
Joyce Meyer Ministries – I think that's a wonderful promise!  I don't want to sound redundant but I want to say again god really loves you. Some of you may be desperate for that love.  I've actually had people write in and say "when you looked at that camera and said 'god loves you,' it changed my life." some people maybe have never heard that or maybe they were mistreated while they were growing up and they just didn't get the opportunity to really experience real love. God's love for you is not based on what you do; it's based on him.  He loves you and he loves you unconditionally.
&copy Copyright 2012 admin, All rights Reserved. Written For:
Joyce Meyer